The Best Of Wildlife Of Rajasthan


Places Covered:New Delhi (1night) – Agra (1night) – Bharatpur (1night) – Ranthambore (2nights) – Jaipur (2nights) – Sariska (1night) – Onward Destination
No. of Days: 8nights/9days
Detailed Itinerary:
Day 1: New Delhi: Arrive early in morning in New Delhi and drive straight to hotel. Relax for some time, get fresh and have a sumptuous breakfast. Later, embark on a sightseeing tour of New Delhi.
Start with Qutab Minar and other ancient and medieval period monuments surrounding it. Together they have also been included in the list of UNESCO World Heritage sites. Qutab Minar is some 73 meters high and a symbol of the Delhi Sultanate period. Other famous monuments in the Qutab Minar complex include the Iron Pillar of Delhi, Quwwat-ul-Islam Mosque, Alai Darwaza, the Tomb of Iltutmish, Alai Minar, and Ala-ud-din's Madarsa and tomb.
Afterwards, go and visit India Gate, a war memorial dedicated to the soldiers who lost their lives during First World War and Third Anglo-Afghan War. Take a visit to Rajghat, a memorial of Mahatma Gandhi.
Afterwards, visit Jama Masjid, a mosque built by Shah Jahan in the mid 17th century. Take a paddle rickshaw ride in the old city. See the narrow lanes where business is still carried out in big volumes. Get a fair idea of how things were during the Mughal and later during British period. Explore Sikh temples and Jainese temples as well in Old city.
Go for a sightseeing of Red Fort after a delicious lunch at one of the restaurants in Old City. Red Fort was the place from where Shah Jahan ruled. This was the place where Nadir Shah invaded and killed so many people. Have a look at the different monuments within the Fort. Towards the evening, enjoy the light and sound show.
Return to the hotel, have dinner. Overnight in New Delhi.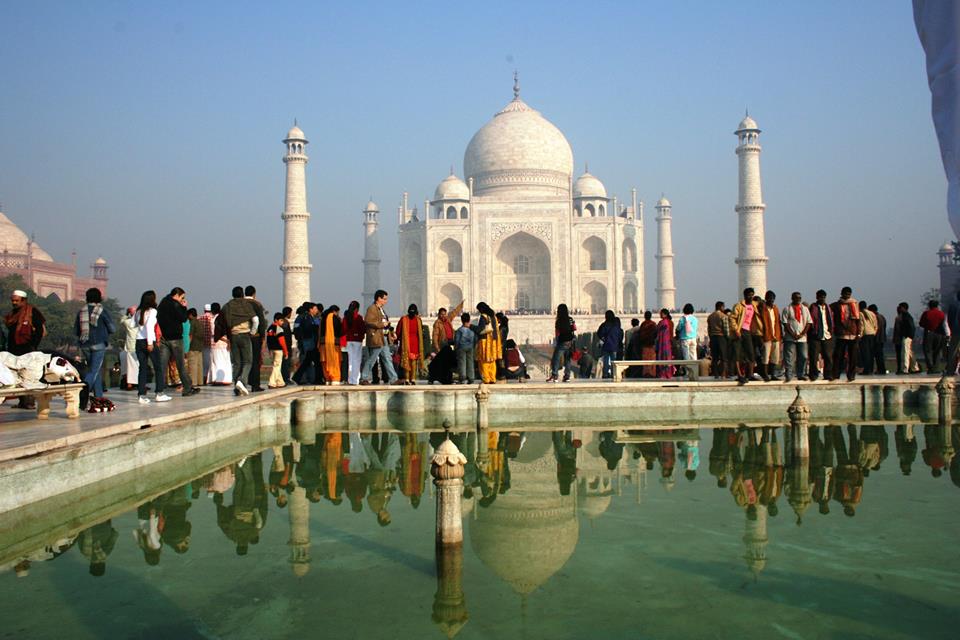 Day 2: New Delhi – Agra: Check out after breakfast and drive to Agra, a drive of around three hours. Check into hotel on arrival in Agra, a city which once served as the capital for the Mughals.
Immediately afterward go and visit the new world wonder – Taj Mahal. Taj Mahal was built by the Mughal Emperor Shahjahan in memory of his beloved wife Mumtaz Mahal. Made in white marble, it is an amazing experience to take a tour of Taj Mahal. Look at the beautiful work of stones and carvings in this beautiful monument.
Have lunch after exhaustive tour of Taj Mahal. Later, go and visit Red Fort, a fort initially built by Akbar, but where subsequent additions were made by other Mughal rulers. You can very much understand how Mughal administration was run within and from the Fort.
Look at the additions made by Jahangir, Shah Jahan and Aurangzeb. You can see the place where Shah Jahan was imprisoned by his son Aurangzeb. After a tour to these monuments go and visit a marble workshop.
The city has skilled craftsmen who are experts in working on marble. Have dinner at one of the restaurants. Stay Overnight in Agra.
Day 3: Agra – Bharatpur: Get up leisurely and after a sumptuous breakfast check out from the hotel in Agra. Drive to Bharatpur, a drive of a little more than one hour. Check into a hotel on arrival in Bharatpur, a small town in Rajathan, close to the borders of Uttar Pradesh.
After settling into hotel, go on to explore Keoladeo National Park, listed among UNESCO World Heritage sites. This is popular as a bird sanctuary. A large variety, more than 350, of birds flock in the Park, particularly after monsoon, that is, during the winters.
You can go on a cycle rickshaw through the Park or can also hire a bicycle. Just near the entrance is Dr. Salim Ali Center. Visit this to get some insight into different bird varieties from across the world.
Return to the hotel and have lunch. Post lunch, go and visit Deeg Fort which served as the capital of the Jats in the 18th Century. The Fort is mostly in ruins now, but a part of it is intact. A sightseeing of this gives a better insight into how the Jat rulers lived their lives and what sort of construction they did.
Late in the afternoon you can visit 1845 built Ganga Temple, a temple situated right in the middle of the city, within Lohagarh Fort complex. Close by is Lakshman Temple. Have a nice dinner. Stay Overnight in Bharatpur.
Day 4: Bharatpur – Ranthambore: Check out from the hotel after breakfast. Drive to Ranthambore national Park, situated in Sawai Madhopur district of Rajasthan. Check into a resort, after a nearly six hour drive, on reaching Ranthambore.
Spread over more than 325 square kilometer, Ranthambore National Park is a great place to see tigers and other animals.
In the afternoon, go and visit Ranthambore Fort and Ganesh Temple inside the Fort. The Fort is quite old; is said to have been built in 944 AD. Learn how the Fort was attacked and how Rajput women committed mass suicide here to save themselves from going into the hands of enemy forces.
Carry a binocular with you. There are chances you can actually see a tiger in the forest from the top of the Fort. Ganesh Temple is also very old.
Return to the resort. Have a nice dinner and drinks. Overnight in Ranthambore.
Day 5: Ranthambore National Park: Start very early in the morning for the safari. Safari usually is from 6.30am (during summers) or 7am (during winters). Go and enjoy the morning safari. Look for the tigers. But you can come across deer varieties, leopards, sloth bear, wild boars and different bird varieties.
Return to the resort after the safari. Get fresh and take some rest. Go for an afternoon safari (from 2pm -3.30pm depending on the climatic conditions – whether summer or winter).
Return to the resort. Have a nice and pleasant evening, chatting and relishing the time spent whole day. Enjoy your drinks and dinner. Overnight in Ranthambore National Park.
Day 6: Ranthambore National Park – Jaipur: Check out after a nice breakfast and drive for around four hours to reach the state capital Jaipur. Check into a hotel in Jaipur on arrival. Take some rest. Afterwards, set out to explore Jaipur. Begin the city tour with a lunch at one of the restaurants. After a delicious lunch, visit City Palace, which has served as the royal residence and capital from 1727 onwards. Descendants of Royal family still lives here. There is a big museum which is open for public viewing. After a visit to City Palace move to Jantar Mantar, a collection of 19 architectural astronomical instruments, built by the Rajput king Sawai Jai Singh in 1734.
Go for a walk along the markets in Jaipur – Chhoti Chaupar and Badi Chaupar. Feel free to do shopping in these markets.
Return to the hotel and have dinner. Overnight in Jaipur.
Day 7: Jaipur: After breakfast at the hotel embark on a full day city tour. Start the day with a tour to Amber Fort, the earlier capital of Jaipur Royal Family. Take an elephant ride to reach the top of the hillock where Amber Fort is located.
Take a full tour of the Fort, which is made in red sandstone. Take a look at Diwan-i-Am Hall, Sheesh Mahal, Jas Mahal, the Queen's chambers, King's place, courtyard, and the hidden passage.
After completing the tour you should go to Jaigarh Fort, which is often referred as one complex with Amber Fort. The hidden passage or subterranean passage connects the two. This is located on a hillock, referred to as Cheel ka Teela, and overlooks Amber Fort and Maota Lake. After a visit of Jaigarh Fort go on to visit Nahargarh Fort. This fort was built by Sawai Jai Singh II in 1734.
Go on to have a look at the Jal Mahal, located in the middle of the Man Sagar Lake. Go for lunch at one of the restaurants afterwards. After lunch, go for a tour of Albert Museum, which functions as the state museum. The Museum, which was opened to the public in 1887, is named after King Edward VII. It has a huge collection of coins, paintings, arts and crafts, international art works and many more. Later, towards the evening go on to explore Hawa Mahal, the Palace of the Winds. This was built specifically for women from royal family. They could see the activities in the market and on the road.
You are free to explore the markets again in Jaipur. You can also go back to Amber Fort to enjoy light and sound there.
Have a nice dinner. Overnight in Jaipur.
Day 8: Jaipur – Sariska: Check out from Jaipur after a sumptuous breakfast. Drive straight to Sariska National Park – a drive of around 2.5hours. Check into a resort on arrival in Sariska.
Go for an afternoon safari (starts from 2pm or 2.30pm, depending on whether it is winter or summer). Look out for different wildlife species found in the national park. Apart from tigers, leopard, sambhar, chital, nilgai, four-horned antelope, wild boar, rhesus macaque, langur, hyena and jungle cats are found in the park. India's largest population of peafowl resides here in this Park. Other bird varieties are also found.
Return to the resort after the safari. Have a pleasant and relaxed evening. Enjoy a delicious dinner. Overnight in Sariska.
Day 9: Sariska – New Delhi – Onward destination: Get up pretty early in the morning and go for a morning safari (starts from 6.30am or 7am, depending on if it is summer or winter). Return after a lovely safari. Get refreshed, and take some rest. Have a nice lunch and check out from the resort. Drive to the New Delhi International Airport (a drive of around three hours) directly from there and catch your flight to your destination.
Treat yourself to customized tour packages from Kolkata, Bangalore, Delhi and elsewhere with Excursion2India!
Please mail us at sales@excursion2india.com. Feel free to call us at +91-9163580464 or WhatsApp at +91-9875310291.