Heritage walk in Old Delhi
Heritage walk in Old Delhi gives you the golden opportunity to experience and explore the city of Delhi like never before. While discovering the various facets of the Shahjahanabad area you can explore the historic Jain and Hindu temples, Gurudwaras, mosques and the Delhi Spice Market.
Taking this walk gives you the chance to explore narrow alleys by going past several havelis and educational institutions. These narrow and crowded lanes are filled with special clothiers, jewelry shops, repair shops, silversmiths, super street food, traditional sweet shops, spice markets and much more.
Going for the heritage walk can, thus, give you some great opportunities to explore the mind-boggling and amazing aspects of these lanes.
Distance Covered: 
Approximately around 3 to 4 kilometres.
Duration: 
2 to 3 hours.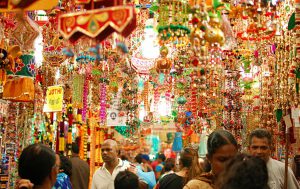 Suitable Time: 
Taking an early morning walk can be the best if you want to stay away from the noise and crowd. But, if you wish to see the daily activities and enjoy the chaotic environment, you can take the walk at any time of the day. During the summer months, going for an early morning walk is more advisable as it gets quite hot during the daytime.
Who Should Come: 
The Heritage walk in Old Delhi is for everyone who can walk and stand for nearly three hours by braving a few steps at different monuments. The walk involves connecting to the rich history of Old Delhi and only those who take interest in knowing about the cultural history of India would opt for the Walk. However, you should avoid bringing kids.
What to Wear and Carry: 
Since you will be visiting various religious sites, it is advisable to adorn clothes which are generally considered suitable for religious sites. Avoid wearing shorts and wear walking shoes or comfortable walking sandals. Carry your own drinking water and if it is summer, carry adequate water.
Starting Point: 
We generally start the walk from the Jain Temple, which is just across the Red Fort. However, we will inform you about the exact starting point through e-mail or mobile.
How to Reach The Starting Point:
One can reach the starting point either by taking the metro, by bus or by any auto or radio cab.
Price: 
Please send mail at sales@excursion2india.com or WhatsApp at +91- 9875310291 to enquire about the tour price.
Tour Inclusions:
A litre of packaged drinking water.

Complimentary breakfast at an Old City street outlet.

One rickshaw ride from the end point of the walk to the nearest metro or car parking.
Exclusions:
Any personal expenses.

Any tip.

Anything in addition to the fixed breakfast provided to all.
Treat yourself to customized and fixed departure tour packages with Excursion2India!
Please feel free to write to us at sales@excursion2india.com.
Please call us at +91-9163580464. You can also reach us over WhatsApp at +91- 9875310291.
Please let us know in your WhatsApp message to us if you want join our WhatsApp Group. Those in our WhatsApp group will get to know about our tours in advance and may avail possible early bird discounts.